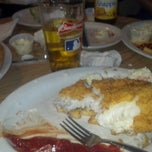 The Bar: Herbie's
The Address: 1030 Southbridge St
The price:  2.50. Wow. I mean wow. She told me the price, and the place was crowded so I didn't quite hear her so I asked for the price again and she said, "Two Fifty." This was so unprecedented. But that seems to be the name of the game at Herbie's. I looked at the menu they had, which was handwritten and then Xeroxed: all of the food was between 6 and 10 dollars. This is a heavenly place for budgeters!!!
Did they ask me if I wanted a lime: She did.
What was the type of gin: Well gin. Was I expecting a hand made gin from London for two fifty? I did not.
What was the gin and tonic like: It was about 10 or 12 ounces and it was fine. Had some punch, had some flavor, it wasn't bad. But baby! It two hundred and fifty pennies! For that price, are you looking for some transcendent drinking experience?
The Joint: It is a big block of a building. Filled with tables. They obviously expanded because there is a clear difference between the two room s and the bar snaked haphazardly between the two rooms.  It has a run down, though not dirty feel. You are not there for décor, you want cheap Chicken Parm and a two fifty pint glass of Bud Light.  You come here, you want to feel like you are immersed in art, go to Worcester Art Museum. The parking was insane, I had to park on a side street. But I didn't have a Safari like trek, it was all manageable.
General Impressions: This is why this tour is so fascinating to me. Everyone should tour their city, find a reason to go to places you didn't know existed. I was just driving by, after doing an errand and saw Herbie's. I had to figure out it was a bar and then said, hell with it, I will go in and check. And here was a packed place, filled with drinkers and eaters and a large swath of people who found this place too, having a good time. Now I know a place for cheap, hearty food (don't know if its any good, because on this tour I have a strict rule, one gin and tonic and nothing else. And then I move on, like Shane)
The bar was packed and I had to stand. The bartender got to me quickly and everyone was in conversation or stuffing their faces or watching the Keno. All good bar practices. The restaurant tables were also all filled, mostly with an older crowd. And this was a Wednesday at 6. Crazy busy. I lasted the length of my drink, ten minutes.
Will I come back: I think yes, but not for the bar, I want to try the food. When I have an urge for fried carbs and protein I want to try this place. The food had a comfort vibe going and no one was unhappy poking at their plates. As a bar, I don't know. I like bars that are not waystations for food. I want bars to have their own personality. Also, I like to comfortably sit at a bar, call me kooky. I might have a drink there if I am heading to Auburn, and have time to kill, but I know I will come back to try the food. Say hello to a new food joint and goodbye to any intentions to diet.